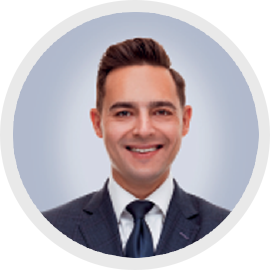 FOUNDER/ CEO
Mariusz Luszczewski
Having a background from his paternal side from Poland and maternal side from India, he is half Indian and half Polish and brings in the best of values and hard work from the respected Luszczewski and Agnihotri family. A Szczecin-based businessman and business community activist. For several years, he has been promoting cooperation between Poland and India. Late 2017, he established the Western Pomerania–India Chamber of Commerce whose members are interested in making and developing business relations between businesses based in Poland and Europe with India (And India to Europe) In just a couple of weeks, the membership of the chamber exceeded 150. The Chamber is one of major partners for the Embassy of the Republic of India in Poland. During his first official visit to India as the President of the Chamber, M. Łuszczewski signed prestigious cooperation agreements with the World Trade Centre Mumbai and the European Business and Technology Centre in New Delhi.
He enjoys twenty years of experience in business management (as the director of operations) in USA and Europe of companies like International Hotels & Resorts, Lane Hospitality, Global Hotels Development Group S.A.
He started his carrier with Global Hotels Development Group SA and was involved in the opening of the second in Poland Holiday Inn Hotel. He was quickly promoted to managerial functions in InterContinental Hotels Group in the US. Since 2005, he was a managing director of the network comprising 37 hotels in Florida, the US.
In 2008-09, he was a Vice President of SSA foodservice design & consulting, the US. He returned to Poland as the President of SSA Europe foodservice design & consulting which a design for clients like Hard Rock Hotels
Since 2009, he was one of the investors developing 'Subway' to the Polish market.
Since 2011, he has been managing Exotic Restaurants, his family-owned company. Today, it has grown to a network of luxurious restaurants employing top-notch chefs.
He is now the chairman of the network and Exotic Group, a company providing international consulting and property management. The employment of the group exceeds 200 people.
Łuszczewski has also become a co-producer for Akson Studio, the largest movie production house in Poland. He is involved in the production of three Polish-Indian movies.
Since 7th July 2018, he has recognized by the oldest East-Central Europe most prestigious think tank "The Adam Smith Centre" becoming one of 50 experts advisors for the President od Poland, Government and corporate institutions as the only one expert regarding Indian Relationships.
He worked together with EHRLE company from 2018 on the entry to the Indian market to finally create a partnership with international Hass Holding and together create a brand for India Smart Car Wash powered by EHRLE. He was the co-owner and CEO overlooking all India operations from Hass Ventures India Private Limited.
Since January 2022 his company Exotic Group signed a partnership contract with one of the European leaders in clean energy Foton Novelty Group S.A. Both companies created in India a company Foton Novelty Private Limited where he is the Managing Partner . The company is investing in clean energy, designing and building of complete photovoiltaic plants.
In July 2022, Exotic Group Investment Management has sold it shares in Hass Asia and now is investing in new technology, energy sector, real estate and construction.
In July 2022 he signed a contract and established a cooperation with Kopec & Zaborowski (KKZ) as Legal Partner! Kopec & Zaborowski (KKZ) Law firm was awarded in international, prestigious rankings - The LEGAL 500 - among the five hundred best law firms in the world and leading Polish law firms in the Commercial, Corporate and M&A category.
KKZ Law Firm together with his Group of companies, will make a new quality in big investments between Poland - India, India - Poland
In August of 2022, Mr. Mariusz Luszczewski decided to build his own holding (EBMI ASIA) Exotic Business Management India & (EBMI EUROPE) Exotic Group Management Investments Poland under which EMBI will be actively investing in sectors like: Renewable Energy sector in India, New Tech & Cleaning Solutions, EV Charging & IT start-ups.
An International Consulting Firm, specializing in market entry EU-ASIA - ASIA-EU with all services from international law & financial services to incorporating companies and finding the best partners on the markets.
Smart International Trading will be a bridge between Europe and Asia, supplying most important raw Materials.
Remains:
Founder & CEO – (EBMI Asia) Exotic Business Management India Private Limited
Founder & MD – (EBMI Europe) Exotic Group Management Poland
Owner – Of the Luxury Chain of Exotic Restaurants, Poland
Managing Partner – Tallon Group for Poland and India markets.
President – Western Pomerania–India Chamber of Commerce, Poland
Co-Producer – AKSON Studios, Poland
Indian Relations Expert - Adam Smith Centre, Poland
Legal Partner – Kopec & Zaborowski Law Firm, Poland